There is so much to be thankful for.
The blessings that I have been given are innumerable. This time of year with the holidays coming up and Thanksgiving just around the corner, I find myself starting to think of people less fortunate than myself. From the homeless person living on the street in such frigid temperatures, to the person who may just be having inner struggles and needs a little something to brighten their day.
I had once read a blog post about a woman who spent her whole birthday doing small things for other people.
It was so inspiring.
From something as simple as buying someone's cup of coffee to purchasing blankets to give out to the homeless.
Random Acts of Kindness
. I know there are people this time of year who could just use a small bit of help from people who have that small bit of help to give.
In remembering this woman, I began to think, wouldn't be awesome if the blog world got together for the Thanksgiving season and every one of us just offered one
Random Act of Kindness
to someone else, whether it be someone we know or a complete stranger. Just one thing that helped brighten someone's day.
From
November 13th - November 19th
, I challenge all of blogdom to complete just ONE random act of kindness (or more if you like). Do one thing that you know will help someone other than yourself and blog about it. Then on Saturday, November 19th, we will have a weekend linky party and everyone can link up there
Random Act of Kindness
and we can all see the good that was done in the world for just that week. With all the pain and suffering we see
everyday
on a very regular basis, wouldn't it be beautiful to see a linky party filled with nothing but good?
What could you do for your
Random Act of Kindness
? Is there someone who could use your help?
Join us in this venture to spread just a little bit of kindness and cheer in the world in the name of Thanksgiving.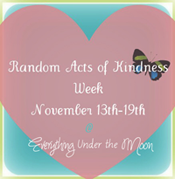 Click here for Kindness Inspiration