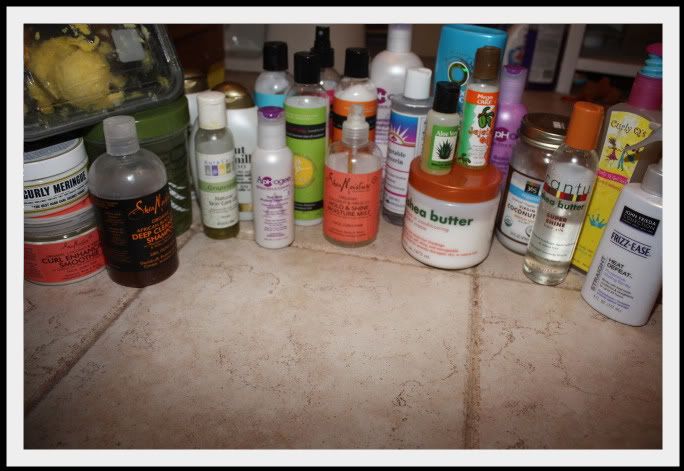 Top: Miss Jessie's Curly Meringue, Shea Moisture Curl Enhancing Smoothie, Shea Butter, EcoStyler w/Olive Oil, Shea Moisture African Black Soap Deep Cleansing Shampoo, Grapeseed Oil, Organix Coconut Milk Shampoo and Conditioner, Aphogee Two Step Protein Treatment
Middle: Curls Creamy Cleanser, Curls Coconut Curlada Conditioner, Curls Lavish Curls, Curls Creme Brule, Shea Moisture Hold & Shine Moisture Mix,
Aphogee Shampoo for Damaged Hair, Vegetable Glycerin
Bottom: Herbal Essence Hello Hydration, Aloe Vera, Jojoba Oil, Cantu Shea Butter Leave in Conditioner, Aphogee Balancing Moisturizer, Coconut Oil, Cantu Shea Butter Super Shine,
Curls Curly Q Gel-les'c, John Frieda Frizz-Ease Heat Defeat.
It's one of the best things getting a new hair product and seeing how it affects and/or enhances my curls. I love reading new reviews on all my favorite hair blogs and getting ideas of new things to try. I look forward to every new curly purchase. My next hair must-trys that will be added to this brood are Carol's Daughter Hair Milk, many Bee Mine products, and Kinky-Curly Curling Custard.
What are some of your favorite PJ goodies?