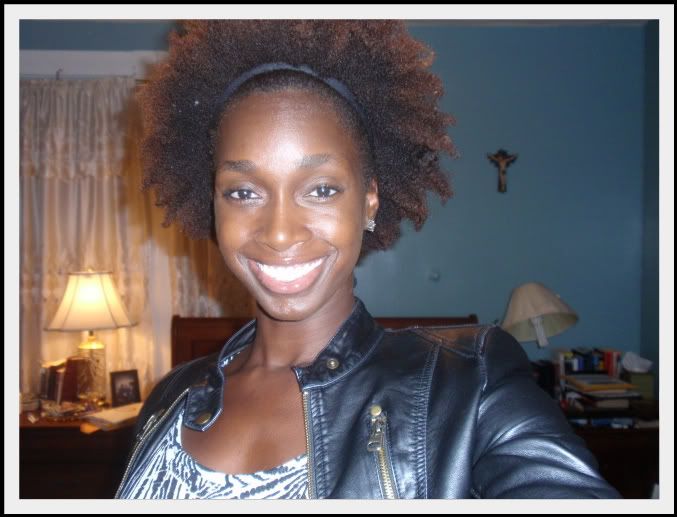 A PhD holding natural who stands as a true example of perseverance equaling success.
"Going natural and staying natural I think is a very personal process."
How long have you been natural?:

March 2011 will be my 2 year anniversary.
Any interesting fact about yourself you want to share:
My grandmother is 86 and has been natural her entire life :)!
Do you remember your first relaxer? If so, how old were you?

I remember having a kiddie perm (Just for Me) around the age of 7. My hair was so thick that mom didn't know what to do with it. I remember how straight it was the first day and two days later it was if nothing had been done to it. The beginning of a slippery slope...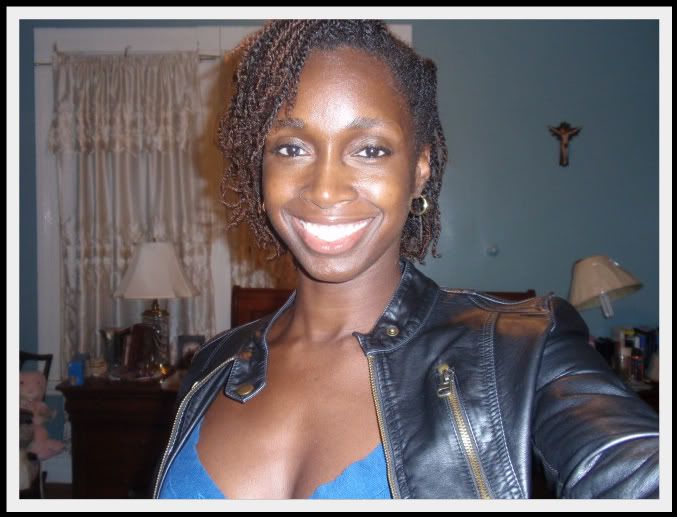 What made you go natural?

A relaxing accident. I had recently taken out braids that I had in that summer and went to get a touch-up. The stylist mistook my unbraided hair for natural hair and double processed me. Within a week, my hair was breaking off in handfuls. I tried protein treatments and deep conditioning, but nothing helped. So, I had a different stylist chop my hair to about 3-4 inches long and then I went to an African braiding shop for single braids. I transitioned for a year and a half and debuted my fro in March of 2009.
What reactions did you get from going natural?

Overwhelmingly positive. My dad was the happiest of all.
Family of naturals!
Have you had any negative comments/reactions to your natural hair?
I haven't gotten any negative comments or reactions. I have gotten a few ignorant and curious ones, but those are remedied with a little patience.
What does your significant other think about your hair?

He really likes my hair and is supportive in this journey. He is just as excited as I am as I get closer and closer to reaching my hair goals.
In general, do you think that men are intimidated or intrigued by natural hair
?
No, I think those reactions depend on the way the woman wearing the hair carries herself, whether she's natural, relaxed, weaved up or bald.
Do you have any hair inspirations?

They've changed as I've gotten deeper into this natural hair thing. My best friend, LaToya was my initial style inspiration and motivation. As my hair grew out and I started to understand my hair more, it moved to a girl that I saw on Black Girl Long Hair, Jenteel who has amazing hair. And more recently, I hairstalk the Lead singer from the Noisettes. But I've realized that I can't really compare my hair to anyone else's, but hair idols are still nice and hair porn is addictive :).
Do you have a hair regimen? If so, what is it?

I try to detangle, wash and deep condition my hair once a week. Sometimes things can get a little crazy. Depending on how its feeling or how much I've worked out, I either co-wash with herbal Essences hello hydration conditioner or wash with Shea Moisture Moisturizin Shampoo. I detangle before I wash by wetting my hair with conditioner and water and use a brush (NOT a Denman, but the cheap Goody ones). I DC after washing and style my hair when its wet (twists, plaits for a braid out, flat twists, etc.). In the summertime I co-wash up to 5xs/week and use Carol's Daughter Hair Milk with a little Olive Oil or Castor oil and leave my fro alone.
What are your favorite hair products?

Jamaican Black Castor Oil
Alikay Naturals Shea Hair Yogurt
Shea Moisture Moisturizing Shampoo
Herbal Essences Hello Hydration Conditioner
Carol's Daughter Hair Milk (in the summer)
What are your thoughts on relaxers vs. natural hair?

For me, I would never go back to relaxed hair. And also, knowing what I know about the chemicals in relaxers, I think its the best choice for me. But, again, to each his own. Going natural and staying natural I think is a very personal process.
How do you feel about the natural movement and the idea that it's just a trend?

Its kind of sad that what naturally grows out of our heads is just a trend to some. For me, I've never felt more like myself and my hair is a reflection of me: my heritage, my mental and physical state, my creativity.
Where can we find you on the internet?

I'm on facebook, I also have a smugmug (isha.smugmug.com) and an abandoned blog 3amorsomethinglikeit.blogspot.com. You inspire me to pick it back up...