I recently had the good fortune of participating in a really cool swap hosted by the lovely, Illy of
Much Love, Illy
and the lovely, Sandy of
Sandy A La Mode
.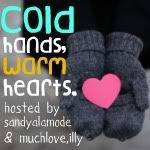 The swap consisted of bloggers being paired up and exchanging a pair of gloves (and other fun gifts) for the holidays! I was paired up with Hannah of
Glad Girls
and I am glad that I was chosen to be her partner. Hannah is completely lovely and we have written each other multiple times and I thankfully enjoyed getting to know her!!
Some of Hannah's favorites are flowers, photography, and the colors green, cream, and pink. I sent her a green scarf with cream gloves and floral printed headband and earrings that were cream, pink, and green. Hannah sent me two HANDMADE scarves, three pairs of gloves, mint tea (my fav!), candy canes, and a "Joy to the World" ornament.
I love my gift!! The scarves are beautiful and warm. Ive been wearing the brown one everyday! I feel so special that she took the time out to make them for me. They are perfectly lovely!!
I am so happy I got the chance to take part in the wonderful swap and I look forward to being a part of it next year as well. Thank you to Illy and Sandy for hosting such a wonderful party and thank you SO MUCH to Hannah for being an amazing person and for sending me such a beautiful gift!!