It is time for the Crazy Cooking Challenge

!!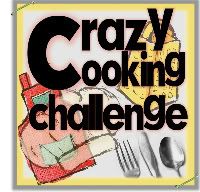 Last month
Tina of Mom's Crazy Cooking
started a challenge where we all find recipes on other blogs for the themed food of the month, cook the recipes, link up the recipes, and spotlight the blog where we found the recipe, as well as our own. Then we vote for the best recipe of the month. Last month was the Macaroni and Cheese challenge where 59 different Macaroni and Cheese recipes were posted to the linky party, meaning over 100 blogs were spotlighted! This month the recipe is Chocolate Chip Cookies and I had the good fortune of being able to participate in this month's challenge!
It didn't take me long to find my recipe because when linking up to various blogs I accidentally fell across Allison's blog
Alli N Son
where she was sharing a recipe of
Candied Bacon Chocolate Chip Cookies!!
I had heard of these before but never imagined giving them a try because of their odd combination. This was the perfect opportunity to do that!
Candied Bacon Chocolate Chip Cookies
Cast of Characters:
Candied Bacon
8 slices thick bacon
1/2 cup lightly packed brown sugar

Cookies

2-1/4 cups all purpose flour
1/2 teaspoon baking soda
3/4 cup unsalted butter, softened
1/2 cup sugar
1 cup packed light brown sugar
1 tablespoon vanilla extract
1 whole egg
1 egg yolk
2 cups semisweet chocolate chips
I started off by creaming the butter and sugar with my hand mixer (passed on the KitchenAid this time since the hand mixer was sitting right there) and once completely incorporated, I added the egg, egg yolk, and vanilla extract. Then I slowly added in the flour and baking soda, mixing all the while. Then came the tough part. I refrigerated the dough overnight to help the flavors to incorporate. No cookies same day :(
After making the dough, I set off making the candied bacon. Super simple and super yummy. I spread the bacon strips across a baking sheet lined with foil and sprinkled brown sugar all over the top.
I baked at 350 degrees until crisp, turning once halfway through. When finished cooking and cooled, I broke the bacon strips up into smaller pieces. You can chop them too. It was just easier to me to break them up being that the bacon is so sticky and wasn't chopping easily.
The next day, I took out the dough, rolled it into golf ball size balls and pressed the bacon chips into the top of the cookie.
Bake at 350 for 15-20 minutes on a parchment lined baking sheet (I was out of parchment so I used non stick foil) and VOILA! Perfect Candied Bacon Chocolate Chip Cookies
!!
As odd as it sounds these cookies were quite delicious! One of my greedy friends walked over to my desk, saw a tray off chocolate chip cookies, and went to town. Then realized she had bacon in her mouth and was confused, lol. Word got out about the cookies and everyone at my job indulged and enjoyed
!!
Don't forget to "like" your favorite cookie recipe down below!!
This is where I party.